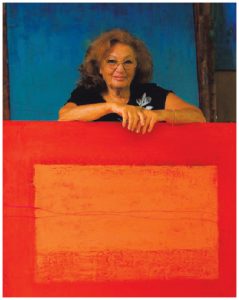 Of Armenian origin, Peggy Hinaekian was born and raised in Cairo.  She owes her love of books to her paternal grandfather who owned the largest private library in Egypt and she was introduced to books in three languages (English, French and Armenian) at a very young age. Peggy grew up in a cosmopolitan environment and was an avid reader and kept a diary since age twelve.
Her first book, an erotic romance novel—"Of Julia and Men"— appeared in the New York Times Book Review Magazine. Peggy designed the cover illustration and the 26 interior images.
Peggy is also an internationally recognized artist and lives and works in the United States and Switzerland where she exhibits her paintings regularly.
In 2020, Peggy's life as an author and as an artist was featured on "Living Your Dreams" (Mara Brown) airing on Los Angeles TV.  During that same year, she won an award from The Writer's Workshop in Asheville, N.C. for a 5000-word memoir, describing her life in Egypt in the 1940s and 1950s.
Peggy would love to receive readers' comments on her books. You may write to her at: hinaekian@hotmail.com
Visit: www.peggyhinaekian.com (for books) — www.peggyhinaekian.artspan.com (for art)